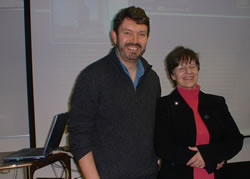 Dr John Corbett with Dr Christine Robinson, of Scottish Language Dictionaries
The SCOTS online resource was launched on St Andrew's Day, 30 November 2004, with a small celebration the evening before in the attractive foyer of one of the buildings housing the School of English and Scottish Language and Literature (SESLL).
Dr John Corbett welcomed everyone to the launch and introduced members of the Project team. Our invited guest, Dr Christine Robinson of Scottish Language Dictionaries, then spoke briefly, welcoming the new SCOTS resource, and describing how it complements existing language resources in Scotland, for Scots, Scottish English and Gaelic. She then formally launched the Corpus, revealing the main search page on screen. John Corbett demonstrated the Corpus in use, through a brief investigation of the use of the word 'peerie'.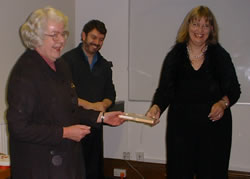 Professor Christian Kay and Dr John Corbett receiving a gift from Dr Lisa Lena Opas-Hänninen (University of Oulu, Finland)
Guests then mingled for a while in the foyer chatting to each other and members of the SCOTS Project team, and enjoying the wine and nibbles on offer. This included a wonderful spread provided by Pauline Maridor, English Language Department Secretary. Also proving popular were some rather unusual reindeer meatballs kindly provided by Dr Lisa Lena Opas-Hänninen from the University of Oulu in Finland who shares an interest in minority languages.
Immediately after the launch the SCOTS Project team retired for a well deserved drink in the University College Club. Afterwards it was our pleasure to take Christine Robinson out for a celebratory meal and to thank her for publicly launching the web site.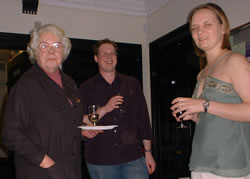 Professor Christian Kay, David Beavan and Dr Wendy Anderson at the launch party
The launch proved to be of great interest to Scotland's media on St Andrew's Day and the following days, with team members being contacted by many of the national newspapers, local and national radio stations, and online publications. This was all very valuable publicity, as it encouraged a large number of offers of texts from the public for inclusion in the corpus.
Thanks to all who have been involved in SCOTS so far, particularly our contributors. We hope this resource will be of great value to many users and researchers.